About Us
Tanya Lee is a long-time residents of one of the world's special places-Vermont.  The stunning landscape combines forest and field, lake and mountain, lovingly tended by the hand of man.  Our lives revolve around our dogs and are framed by the warm community in which we live.  It is a place where people know your name and stop to help a stranger by the side of the road.  It is a place of artists-some make marvelous furniture or blow glass.  Others are renowned for their painting, writing or singing.  Yet other crafts people make nationally known cheese or herbal tinctures of the highest quality.  This special place frames what we do.
Tanya has decades of experience with her beloved Dobermans, successfully completing many championships while always working for the tops in health and soundness.  Pam, along with her husband Alan, has run a limited breeding program for Weimaraners.  They have bred 53 puppies of which 28 are champions.  Descendents for these dogs are in the four corners of the world.  While competing our dogs in performance events is important to us, they are always family.  They sleep in our bed and often live to be very old dogs, cherished fiercely.  Some washed out as competitors but all live on with us in comfort and love.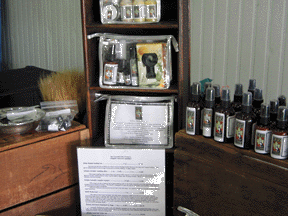 Our dogs bring great joy to our lives.  Their frolics bring a smile.  There is no better remedy for stress than a dog to pat.  Dogs keep us fit.  With them we form a bond with another warm, intelligent being.  Our dogs' health, vitality and happiness are of the utmost importance. We have crafted many original products for dogs and the  people they own.  We use the highest quality ingredients we can find-all human-grade, mainly organic.  Our products are good at home and on the road.  We spend many weekends traveling with our dogs.  Our products are easy to pack and carry without fear of spoiling.  They make life easier, particularly for the dog on a natural diet.